This started out looking like it another week that was going to make getting into the shop tough. And that proved correct. Monday was a holiday here in the US, Memorial Day, and then it was back to work. The day job was just nuts and I had to work every night, so there went any possible shop time. Hopefully this will let up so I can get back to the fun.
The weekend opened up and gave me some work time, even though the weather on Saturday was beastly hot and humid and it was June 2nd. I didn't like the new side catches for the engagement box - they worked fine but thew were a tad jiggly. So I made a new set that were a tad (like 3/32") longer, fit them and finished them. I like the fit much better, there is a lot less play and I left them a tad tight in case I want to sand them ever so slightly. They should work much nicely and look and feel great. There is still the hole under it that used to hold the screw attached version, I haven't decided if I'll just leave it, since it's mostly hidden or maybe fill it with some colored epoxy.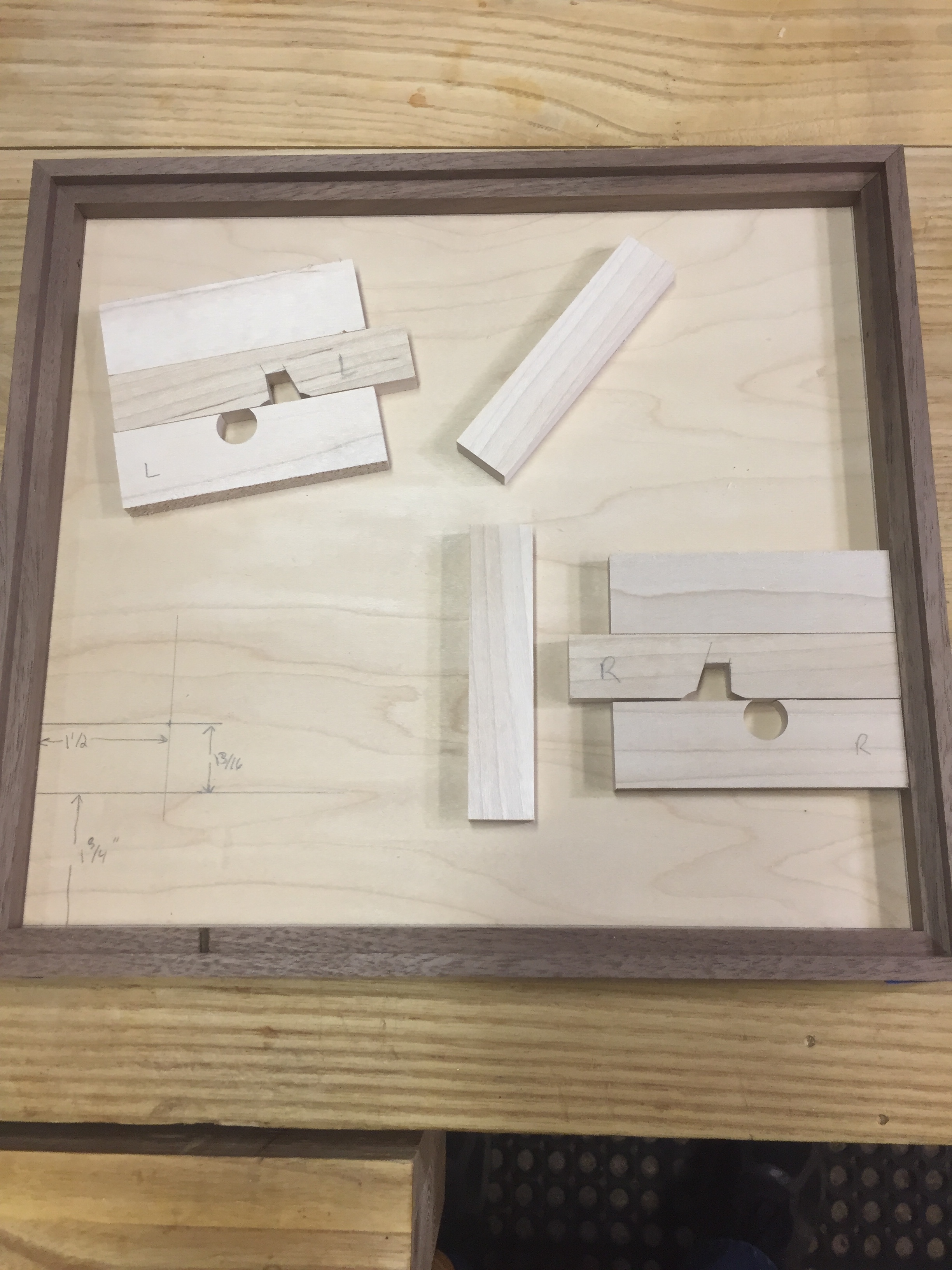 I also got started on the top locking system. My first try didn't work the way I wanted, it would unlock but the design of the catch was such that the springs wouldn't push it closed again. So I worked out a way to use something more like a key that when turned will slide the lock open and the spring behind it will push it closed again. I spent more time laying out dimensions on paper than I got to do woodworking, but that's not a bad thing. Good plans are necessary. My goal is to have a design that I can still take apart to work on if ever needed. Plus, I had to work out a way that I could still install and remove pieces, so the piece holding the springs will be removable too. After some tests with plywood and poplar I was ready to get onto the real thing. I wanted to use maple, it's strong and more wear resistant (not that these parts will get a lot of use). I had a little piece that with a bit of resawing gave me 2 pieces - I figure why turn good wood into dust on the planer. A combination of the table saw, drill press and jig saw get these pieces in shape. I'm sure I'll still have adjust things as I go. And these are for a test lid - I'm not even working on the actual one yet!
I did notice that the iris drawer I have for the engagement back is now starting the stick a bit when opening the iris. It could just be the extreme humidity and this is a mechanism that requires an accurate fit. I'm hoping I don't have do do fixes or a rebuild here. Even though, I was thinking of trying to re-cut the mechanism in plexiglass to see how it works. And I haven't tried cutting plexi on the CNC yet so it'd be a nice excuse.
I didn't get time to do any cipher wheel work or major website work this week, but I plan on more. I'd also like to add more sections to the website about building puzzle boxes, making mechanisms, types of puzzles, etc. I still want to make a go of this professionally, so building a solid site and would really help, plus allow me to give back.
Till next week, stay dusty.