Some tools ran, noise was heard and dust flew (hopefully into the dust collector). I did have another week that had a lot of extra time for the day job and my shop time was minimal. I made do with what I had though.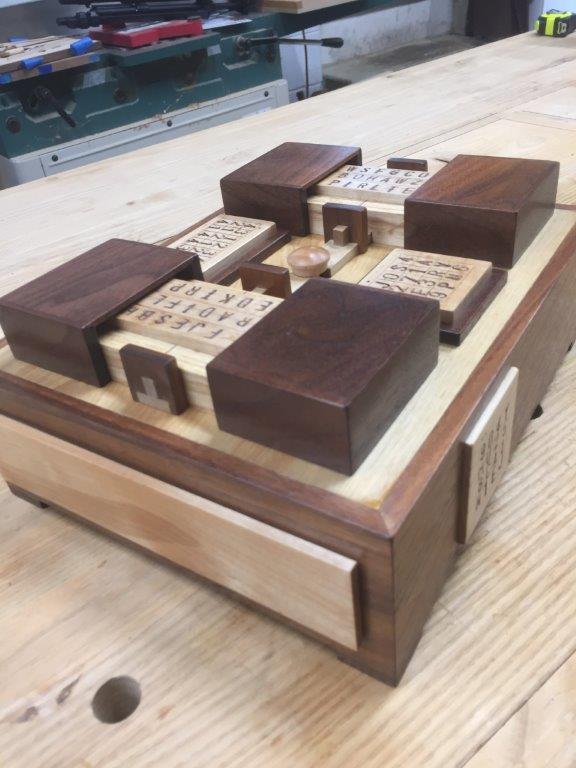 Through out the week I worked on getting the last Button Box finished. The weather here has still been very humid and that makes finishing a project hard. Humidity slows down drying times, occasionally by a lot. I use Minwax wiping poly as a top coat and on a good day I can put on 3 coats. In this weather, I could do maybe one a day. The dry time is that much slower. Plus that means I wind up with more dust nibs and need to do some extra sanding with a 0000 sponge later to smooth them out. But, after putting on a few coats with long wait times in between, the last box is done. I waxed the moving pieces, glued on those I didn't want to move and I'm ready to ship it out. This was done as a request so it is spoken for already. Now, how do I create a product for just one person on something like Etsy so I can accept the payment?
Then finally, late Sunday afternoon, I decided it was time to get some new projects going. I don't know quite what I'm going to do, but I know I want to use the general structure of my engagement box. I like the size and it gives me room to add in other mechanisms. So, I got into the shed, pulled out some boards and decided to mill up enough stock for 7 boxes. Everything is just a bit over long and thick so I've still got some wiggle room. I'm using different woods this time: 2 from cherry, 2 from maple and 2 from red oak. One more will use both cherry and maple and will likely be the box I keep and the one I do my main setup and testing on. I didn't have enough in to get one more out of a single species but had chunks of cherry and maple to use up. Milling up is a tiring step but yet somehow fun. I cut the rough stock to size, often by hand to crosscut boards down. Rip them to near width, then joint and plane. The planer needs it's feed roller cleaned first and the tables waxed. I use a product called Slipit - always worked well for me. After that it's just feed and flip and feed and flip, making some adjustments if I read the grain wrong and got some tearout. The only problem I have is that maple likes to take a long chip and clogs my planer's dust chute. I'd love to replace the old Delta at some point. Maybe even sell the planer and jointer and go for a combo machine instead.
It wasn't a huge week, but it felt good to finish the Button Box and get some stock prepped for new boxes. I know my time is going to stay sporadic so having big operations done means I can get in bits of work throughout the week as I have time.
Until next week, stay dusty!