I got to have some fun in my bits of free time this week and use some of those jigs for making cube puzzles. I cut up a bit of cherry into a bunch of 3/4" cubes. I got pretty good accuracy but my variation was still from .001 to .003. I'd prefer if it stayed within .001 as it does affect to working of the puzzle. I think it might come from the tiny amount of play in my puzzle makers sled and if I put a little more force on one side I can shift the cut ever so slightly. It's hard to take out that last bit of play because if I tighten it any further the sled can bind up in the miter slots. So, I'll continue to work on it. Perhaps a new hold down assembly will let me hold the block in place so I can have an even push of the sled with both hands. It's close, it's real close.
I was glad to have made the edge beveling jig. The first time I made some cube puzzles I beveled by hand on the sander and it took a long time with questionable accuracy. This time, probably 5-10 minutes to finish 30 cubes and have them all come out nice and even. Then it was over to the corner gluing jig which also worked great. I just put a small amount of glue on the faces that needed it, held them in a place about 30 seconds and moved onto the next cube. I made the 5 piece puzzle from Brian Menold's book. Gluing went well, I had forgotten to glue one piece that I had to fix, but that's better than gluing one wrong! I had to do a tiny bit of sanding on a few pieces to make it fit and work well. All that's left now is to clean up the edges and add some oil to pop the cherry.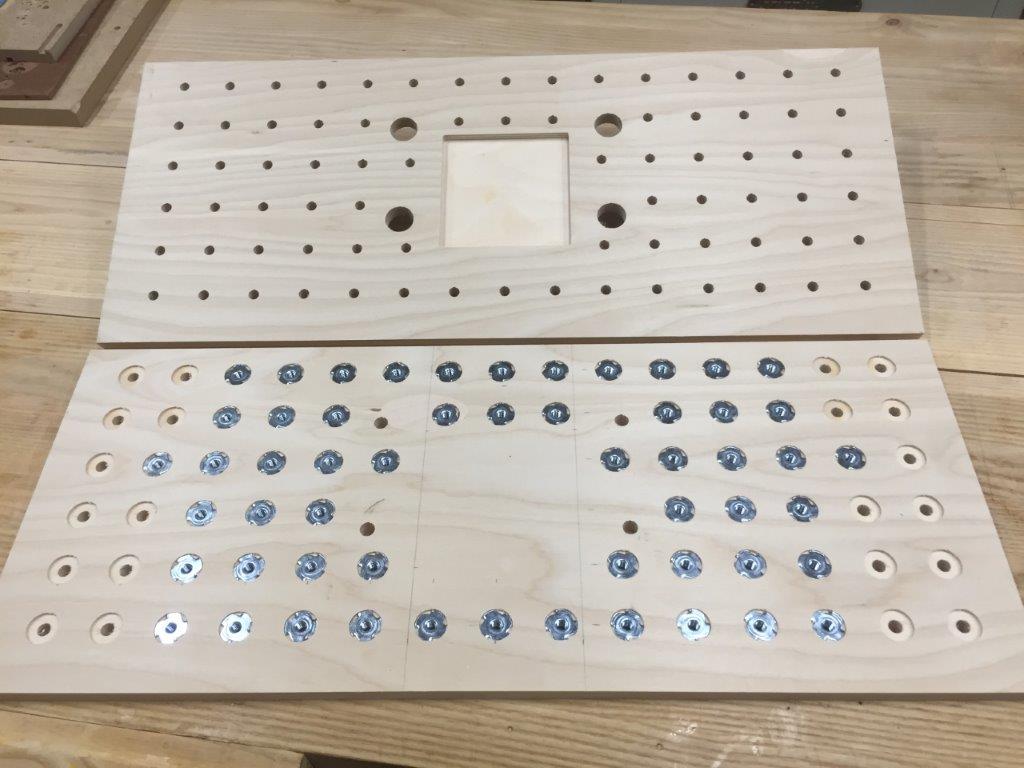 Then I was about to take some pictures of my drill press table for my upcoming article and I thought, you know it's about time I made a new table. I wanted something with more functionality and it'll look really good. I like the attachments on the table saw sled and knew it could be used on a drill press table. After a bit of head scratching, some measuring and time with v-carve I had a toolpath for the CNC. I'll have 50 or so attachment points and a replaceable center. Wouldn't you know it, though, I ran out of t-nuts and I can't finish till that order comes in (luckily Lee Valley is pretty quick!). I know it's a lot of hold downs, but I figured add a lot, they come in handy. The CNC process took about an hour to finish the top and bottom layers. The bottom layer has the holes for the t-nuts with a recess for them to sit in. The top has the through holes and the cut out for the replaceable plate. There are also holes for the bolts that attach the table to the drill press. Once this is done I know that having the same toggle clamps and stops I use on the table saw available will be a big help. Plus I can make a holder for the cross slide vice so it's easy to attach.
Bit of a light week, but nice to have some time to put another shop aid in place. These can make a big difference down the road when I'm deep into other builds.
Until next week, stay dusty.